Creating Positive Resilient Organizations
Public sector organizations bring hope and health to our communities. But the fast pace and high workload – and under-resourced condition in most social service, civic, and faith- based organizations – leave employees struggling with their own hope as they try to survive the onslaught of their work on a daily basis.
In this high-energy and no-nonsense presentation, Anderson translates and combines the most recent science on how humans create and sustain hope, along with community sustainability research, into a compelling and clear action model that can be used by any group to create a powerful and sustainable culture of hope in demanding work environments. You WILL be more hopeful about your group after listening to this presentation.
DISC ONE :

Introduction
Hope is the Third Ingredient
The Inertia for Despair
What is Hope?
Hope's Four Pivot Points

Price :
$18.00 per copy
Note : Washington residents will be charged 8.4% sales tax.

Shipping Information :
1 CD Set : $2 Shipping
2 or more : Free Shipping
First-class shipping for U.S. and Canadian customers.

DISC TWO :

The Logic of Ritual: Meaning-Making and Groups
Rituals for Resiliency: The Action Model
Basic Steps to Getting Started
To Hope is to Love

Copyright 2008,
by Community Activators
2 discs, 96 minutes

Questions?
e-mail us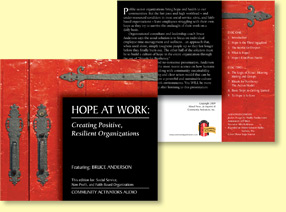 + click to download cover / back cover